MOEY Sixth-Form Pathways Programme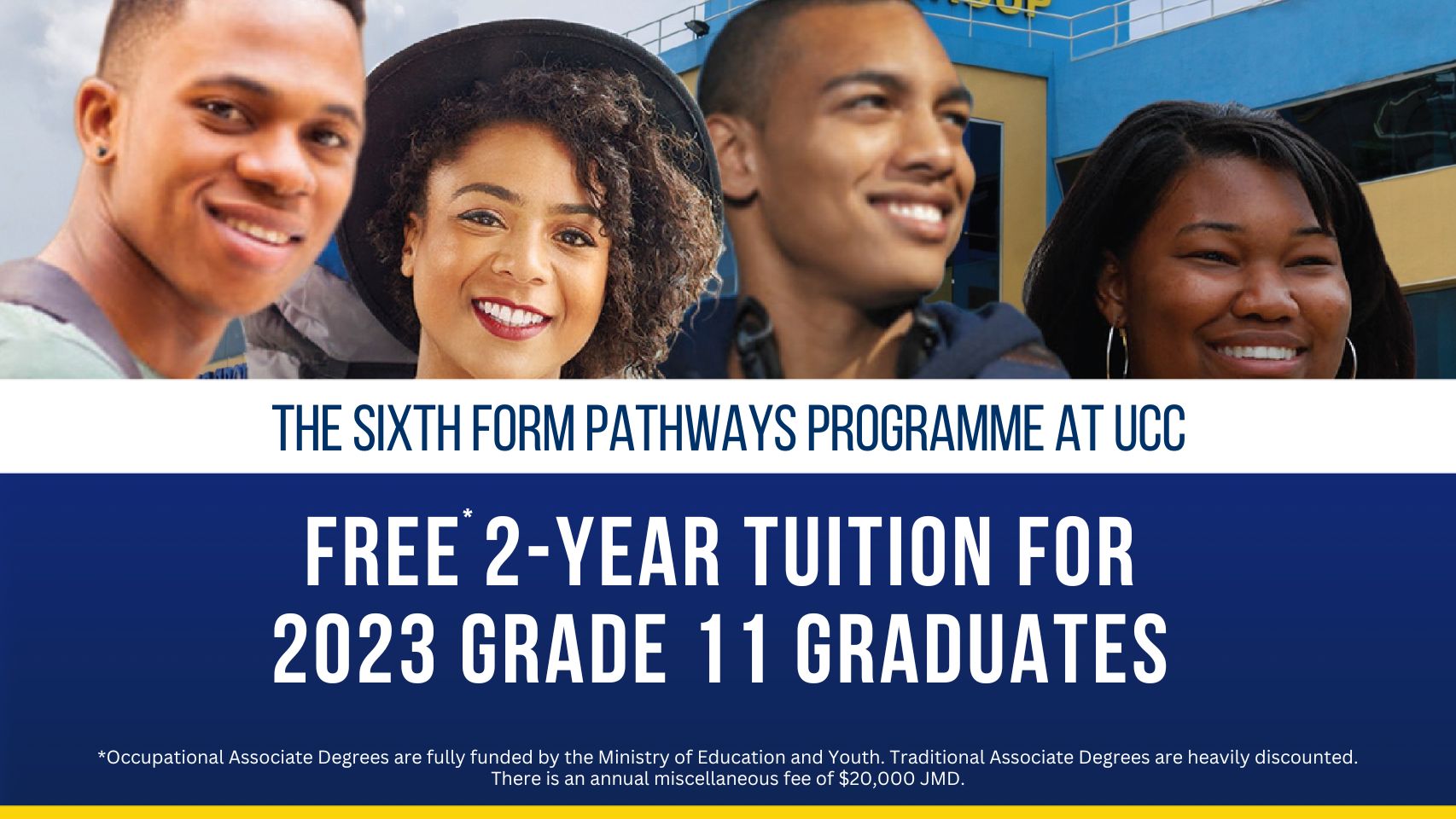 We are pleased to advise you of a new groundbreaking partnership initiative with the Ministry of Education and Youth  – the Sixth Form Pathways Programme – which will allow all Jamaican 2023 high school graduates to automatically transition to grade 12 to earn either their chosen Occupational Associate Degree (OAD) or an indigenous/Traditional Associate Degree (TAD) offered by another participating tertiary institution such as the UCC after completing grade 11.
---
Under this new K-13 model, the Ministry of Education and Youth (MOEY) will provide a scholarship for the two years to all students!
In this regard, your high school and participating tertiary institutions including the UCC (which is one of only five UCJ institutionally accredited institutions in Jamaica) will now partner to offer various Sixth Form Pathways for the new school year starting in Fall 2023. 
All students who start in 2023 will automatically be eligible to receive a 50% scholarship on their third-year tuition if they choose to pursue their bachelor degree with the UCC for two more years after completing their associate degree.
Under this programme, students who specifically choose to pursue their tertiary level study with the UCC /UCCA will be able to pursue their program of study on one of two pathways as seen below: 
Sixth Form Pathway I (Traditional)
Sixth Form Pathway II (Technical)
The following are the specific programmes that will be offered under Pathways I or II:
UCC TRADITIONAL ASSOCIATE DEGREES (TADs)
Offered by the University of the Commonwealth Caribbean
Programmes offered full-time in the Blended modality
Business Administration
Tourism & Hospitality Management
Information Technology
Paralegal Studies
Production and Operations Management
TUITION
2023 high school graduates will receive a grant from the Ministry of Education and Youth & will therefore only pay tuition of $70,000 JMD per year.
FEES
A miscellaneous fee of $20,000 JMD will be payable in year 1 and year 2
ENTRY REQUIREMENTS
Individuals must possess a minimum of five (5) subjects at the GCE or CSEC level (including the mandatory English Language and Mathematics) at grades A, B, C or 1, 2, 3 respectively.
FALL 2023 APPLICATION DEADLINE
September 8, 2023
CLASSES START
September 2023
---

---
ALL TUITION & FEES SUBJECT TO CHANGE AT SHORT NOTICE
*Programmes listed with an asterisk are potentially upcoming if sufficient demand has been met.