THE UNIVERSITY OF THE COMMONWEALTH CARIBBEAN (UCC), WORLD TRADE ORGANIZATION (WTO) IN PARTNERSHIP WITH THE ADVISORY CENTRE ON WTO LAW (ACWL) AND INTERNATIONAL TRADE INSTITUTE FOR WEST AFRICA 
cordially invites you to participate in our Five Day Workshop
Theme: "Boosting the Global Trading Capacity of Jamaican and Caribbean MSMEs"
Date: October 9-13, 2023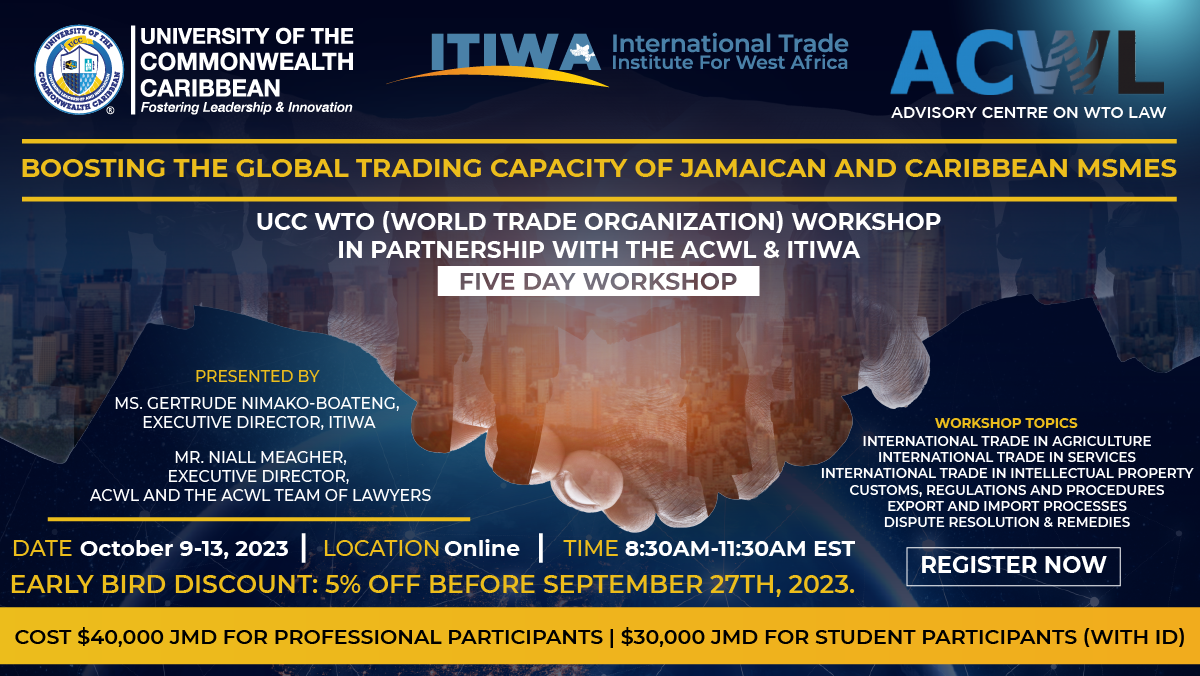 Understanding international trade is crucial for both organizations and individuals in today's world. We will delve deeply into the complex network of global trade across multiple industries during our workshop sessions.
You will receive practical advice and tried-and-true tactics to improve your efforts in international trade from our knowledgeable speakers and interactive sessions. Whether you are a business professional, student, or entrepreneur trying to broaden your horizons, our workshop will prove to be a beneficial experience that will equip you to succeed in the world of trade.
Workshop Topics:
International Trade in Agriculture

International trade in Services

International Trade in Intellectual Property

Customs, Regulations and Procedures

Export and Import Processes

Dispute Resolution and Remedies
Dates and Times: 
The workshop will be held on October 9th - October 13th, 2023 from 8:30 AM until 11:30 AM on each day. 
For further information, please contact: 
Head of Department, Law: Dr. Marcus Goffe
Email: lawlecturer2@ucc.edu.jm
Senior Programme Coordinator, Law: Mrs. Maxine Watts
Email: snruolprogcoord@ucc.edu.jm
University of the Commonwealth Caribbean
17 Worthington Avenue, Kingston 5, Jamaica